UNITED STATES — You've probably never heard anything like this from country music. Where's Lil' Jon when you need him? "Ah WHAT!?"
We first came across this track as a meme. However, after seeing it was real thing, we couldn't help but share this with the world.
Note: If you ever hear people saying "Black music" is the only kind making diss tracks or using degrading lyrics, you definitely can toss this at them.
The artist goes by Wheeler Walker, Jr., and he's got a lot on his mind.
Although he sings over a soft ballad, his words are everything but "soft."
If we didn't know better, we'd think it was a Dave Chappelle skit. But, trust, it's not.
NO JOKES, FOR REAL
Okay. So, these lyrics are definitely strong, to say the least of them. Apparently, Mr. Walker has had it — down to his spurs — with the woman in his lyrical onslaught.
Or rather, she was fed up with Walker.
The song starts, and literally after two bars, Walker goes right into his "message."
You say we're done/Pack up your stuff/It's really over/That you've had enough/There's one thing I'd like to say before you leave me……….(music break)……………F**K you, B***H!
Bruh! Wheeler Walker, Jr.'s a savaaaaaaaaage.
If you're interested in the music video, you can watch it below.
WARNING: The following video contains explicit language. Viewer discretion is advised.
This isn't the first outlandish track Wheeler Walker, Jr. has created. In fact, he dedicated an entire album to his peculiar brand of country music called Redneck S**t.
A few tracks from the album are "P*ss in Boots" and "Sit on My Face."
Apparently, Wheeler Walker, Jr. is the "Uncle Luke" of country.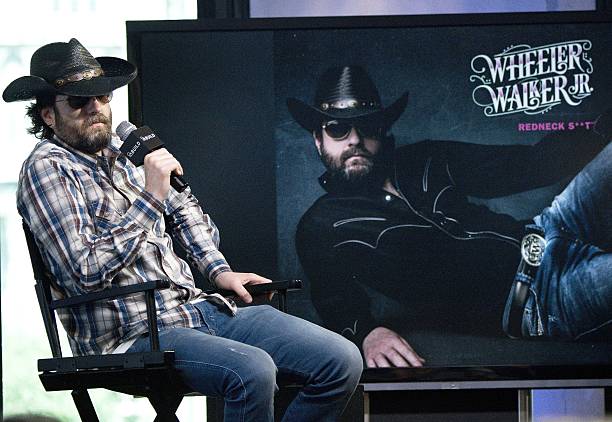 He's also made diss tracks about fellow country artists.
In an interview with Country Music Television (CMT), Walker mentions as follows.
"I want to be high on the charts and compete with this horrible music. So my thing is now with Sam Hunt, Florida Georgia Line, you're not the enemy. You're my peers. I didn't want to just be known as the guy who makes fun of other artists. I'm here to win."
Note: Again, rap isn't the only music genre with diss records. Mr. Walker just proved it.
All in all, let us know your thoughts about this story. If you have any comments, feel free to share them via our Facebook page.
[Featured Photo via screengrab]